The Challenge
The client, a major data and analytics company, wanted to better understand the customer journey for their solution in order to optimize their GTM approach, as too few prospects were making it through the funnel. However, they lacked clear insight into what motivates organizations to search for an advanced analytics platform, how those organizations evaluate and choose a solution, and what factors are most important in the final selection. Without this understanding, the client risked developing a solution and go-to-market strategy that just wouldn't land with customers.
The Solution
To address this challenge, we partnered with the client to apply our proprietary buyer's journey framework. This framework applies our decades of B2B technology practice to evaluate the b2b technology buyer's journey across 93 factors. These factors were distilled from thousands of interviews to fully encompass all factors that may impact a B2B technology purchase decision.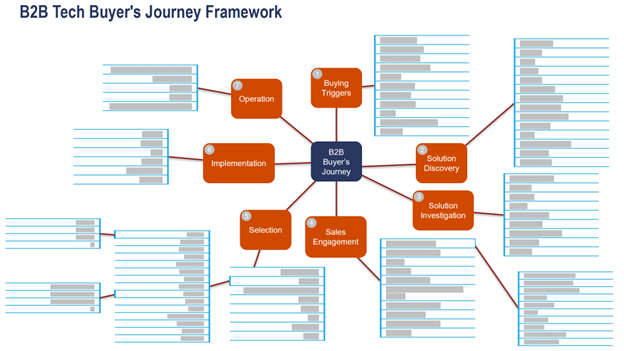 The research aimed to identify key personas involved, the triggers that started the search, criteria used to evaluate solutions, content that resonated most with customers, and strengths or gaps in the existing solutions. Interviews were with Chief Data Officers, Chief Information Officers, Data Scientists, Enterprise Architects, and Business Intelligence Directors.
We demonstrated that the customer journey is particularly complex for these kinds of solutions, with stakeholders across many business units involved, as evaluating analytics solutions is both a technical and business decision. And, we uncovered key learnings in the following five stages:
Discovery: We helped our client understand how enterprises narrow a "long list" to a "short list" of potential solutions. At this stage, we found that because these solutions are so "sticky", organizations were keenly interested in solutions that they wouldn't outgrow.
Demo: In this stage, we showed that vendors have a short window to demonstrate deep knowledge of customer needs and how their solution specifically addresses them. Customers were looking beyond the technical to evaluate the partnership: Can this vendor support our long-term data analytics vision? Does the roadmap align with our priorities? Are they investing in continuous innovation?
RFP: Rather than a rigid "check-the-box" exercise, the RFP process synthesized learnings from discovery and demos. Customers seek a solution customized to their needs, not an off-the-shelf product. They ask clarifying questions to determine if a vendor's proposal is aspirational or actionable.
Proof of Concept: Shortlisted solutions are tested against current and future scenarios. Can business analysts easily build reports and dashboards? Can data scientists productively experiment with advanced analytics? Can IT quickly integrate new data sources or capabilities? Success is measured not just on functionality but on the experience of working with the solution and vendor.
Selection: The final selection balances rational criteria with the gut feeling of which solution and partnership "felt right." The choice is less about specific features at a point in time but rather which solution and vendor are most likely to evolve with the customer's needs. Thought leadership around new technologies or business challenges provided confidence that the solution will stay cutting-edge.
​The Outcome
We helped our client pivot their go-to-market strategy by driving home the need to personalize messaging and solutions to the customer's specific challenges, priorities, and environments. By focusing on understanding customer needs rather than just showcasing product strengths, our client could create enduring partnerships and leave customers feeling invested in, not sold to. Based on the research insights, the client developed targeted solution content and messaging for each stage of the customer's journey. They emphasized strengths aligned with customer values.
The research was invaluable in helping the client attract new customers and build long-term partnerships. Continuous feedback and enhancement will help retain existing customers amidst growing competition. Overall, the investment in customer research maximized the value of solution offerings and marketing efforts.
​